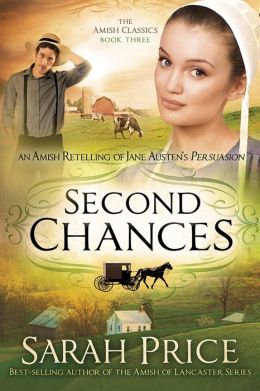 Once again Sarah Price brings to life a classic novel, this time Persuasion with an Amish retelling in Second Chances (Realm). Second Chances is part of Sarah's Amish Classic Series. It is clever, entertaining, and filled with moral lessons that readers will find hopeful and helpful.
The cast of characters could not be any more compelling. Readers should expect that they may not get any work done until the book is finished; it is just too difficult to put the book down. Our main character, Anna, is a 25 year old single Amish woman who doesn't have the strength to stand up to the decisions made by others on her behalf. She loses the love of her life as a result.
So when is a persuadable mind a good thing? When would it be a bad thing? Is Anna too submissive and obedient for her own good? Will Anna ever be able to stand up for what is good and right for herself or will she always be persuaded to do what others want to her own detriment?
Sarah Prices writes interesting characters that readers will be rooting for and against. At first readers may feel they know who the good characters and bad characters are, but it may not turn out to be that simple. Sometimes things are not as they seem. But in the beautifully written ending, even the villains prove to have a decent side. Second Chances was published on June 2, 2015.