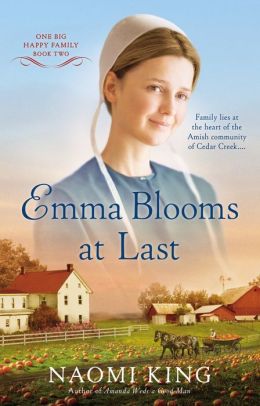 Naomi King continues to write wonderfully appealing Amish romance novels including her newest offering, Emma Blooms at Last (Penguin Group).

Emma Blooms at Last continues the story from Book One, Amanda Weds a Good Man of the One Big Happy Family series which takes place in Cedar Creek, Missouri.

Readers may want to read Amanda Weds a Good Man prior to starting Emma Blooms at Last so as to be familiar with all the character's back stories.

Both books are excellent reads and very entertaining.
As the book begins, Emma Graber is feeling like she is always the bridesmaid, and never the bride as her friend Abby Lambright prepares to marry Emma's brother, James.
Emma has spent her life caring for her aged parents and she has no prospects for a husband in sight.
Naomi King perfectly captures Emma's feelings of being left behind while everyone else is dating someone special.
One young man, Jerome, has been looking Emma's way, but he is so flashy and sure of himself, which is not the Amish way. It seems people keep pushing Jerome towards Emma as they play matchmaker.
Their blatant and clumsy attempts at matching Emma to Jerome irritates Emma and only causes her to back away from him.
And Jerome doesn't help his cause with his constant pressure to see and date Emma.
Will Jerome be able to let his true self shine in front of Emma?
Will Emma come out of her shell and let herself love again?
Meanwhile Wyman and Amanda Brubaker and their combined brood of children from Book One are back in
Emma Blooms at Last
.
Money troubles mount for the Brubakers and each member of the combined family face new sacrifices.
Can
Wyman discover a way to fight back "Amish style" to get his family and business back on their feet?
Emma Blooms at Last
is such a charming book; readers will love the families within its pages.
Naomi King gives us excitement, romance, challenging situations, and good, old fashioned Christian values in this page turning delightful novel.
Emma Blooms at Last
was published November 4, 2014.