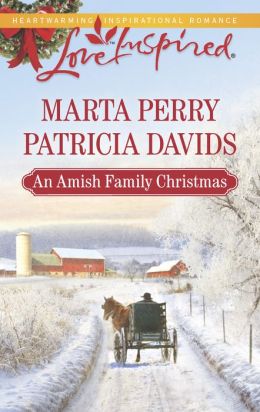 Marta Perry and Patricia Davids have teamed up to each write a Christmas themed novella which are combined into An Amish Family Christmas (Harlequin Love Inspired Publisher). Both novellas are deliciously romantic and definitely not a book you will want to put down. Readers also win by having two complete stories within one book. Regardless that Christmas is five weeks behind us, this is a fascinating quality book to read any time of the year.
The first novella in the book is Heart of Christmas by Marta Perry, a top notch Amish writer of romances and mysteries. Heart of Christmas tells the story of Susannah Miller, a 30 year old single Amish teacher at Pine Creek Amish School in a small valley community in central Pennsylvania for the past twelve years. Ten years ago she was jilted a month before her wedding when Toby Unger left their community and moved to Ohio. Toby got married in Ohio within a year and had two children, William and Anna, before his wife died.
Now Toby and his children have come back to live with his folks in Pine Creek. Susannah becomes the teacher for William and Anna, both of whom are troubled as a result of their mother's death. With Toby in town, one thing after another happens to Susannah to the point that she is about to lose her job as school teacher.
The book transposes the caring within the Amish community for one another versus the desires of just one school board member with bad motives. Readers will question whether good can win out over a powerful, yet misguided school board member.
The next novella, A Plain Holiday by the inspiring author Patricia Davids, tells the story of Sally Yoder from Hope Springs, Ohio who is spending her Rumspringa working as a nanny in Cincinnati, Ohio. The children, Kimi age 11 and Ryder age 8, that Sally watches are selfish, materialistic and entitled, just like their parents who decided to spend Christmas alone in Paris. It is decided that the children and Sally will spend two weeks with the children's grandmother who owns a large ranch. Unfortunately the Amish boy, Ben Lapp that broke Sally's heart, works in the stables of that same ranch.
Ben, soft spoken and helpful, follows the Amish way of life and has stayed on the straight and narrow path, while Sally previously ran around with a wild group of teens. Sally always felt she could never be a good and faithful Amish woman like Ben deserved. Sally has a problem with meekness and struggles with her faith. Will Ben and Sally be able to mend their prior differences and begin a friendship?
Both Patricia Davids and Marta Perry are undeniably gifted in drawing their characters into people that readers can relate to and enjoy. They make us care about what happens next. What a gift! An Amish Family Christmas was published on October 14, 2014.