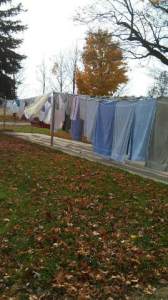 The Eicher's always air dry their laundry.
For a very long time I have followed the lives of the Michigan Old Order Amish family, Lovina and Joe Eicher and their eight children. Lovina took over the weekly column that her mother wrote for Kevin Williams about 12 years ago. Kevin's website is www.amish365.com and Lovina's column had been known as The Amish Cook. Well I don't have all the details on why Lovina and Kevin stopped their long term partnership, but now Lovina has partnered up with MennoMedia and started writing a weekly column which I just found today.
The Eicher family animals.
Lovina Eicher has a nice, comfortable style of writing and gives a wonderful glimpse into Amish living. Her eight children range in age from age 20 down to age 8, so she also writes about her children and their activities. If you are interested in the daily lives of the Amish, Lovina writing will give you great insight. Every column also includes one or two recipes of genuine Amish cooking. The columns I looked at included writing about weddings, family get togethers, medical emergencies, diary of an entire day, canning, chicken butchering, camping vacations, pie baking, and so much more. And photos are also included in the columns online, not of people's faces of course.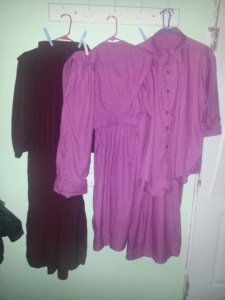 Lovina is sewing new dresses for her girls to wear to a family wedding.
Here is the website to view all of Lovina's columns since she started with MennoMedia on July 1, 2014 - http://www.lovinasamishkitchen.com/diary-of-a-day-in-an-amish-household/. She titles her website "Lovina's Amish Kitchen" and it is a true must read for those of us who study and enjoy reading about the Amish.