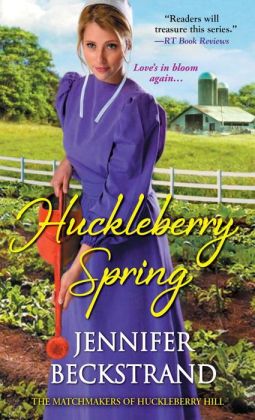 Jennifer Beckstrand has knocked it out of the ballpark with the fourth installment of The Matchmakers of Huckleberry Hill series, Huckleberry Spring (Kensington Publishing). The series is filled with humor alongside sweet romance in these Amish genre novels.
Everyone's favorite grandparents, Anna and Felty Helmuth, are undertaking another matchmaking. This time it is their grandson, Ben Helmuth, to awkward yet lovely, Emma Nelson. Ben and Emma had been engaged previously but Ben unexpectedly broke things off and moved away to Florida. He comes home from Florida when his grandparents summon his help while Felty recovers from various surgeries that Anna has drummed up.
At the same time that Ben is settling in to help on the farm of his grandparents, Anna asks Emma to help her grow a prize winning large pumpkin. Emma agrees to help and then sees that Ben has come back home. She will be stuck seeing him several times a week and her heart still has not mended from when Ben broke their engagement with no explanation.
Ben wants to make sure Emma always has a good life, even if he will not a part of her life. His clumsy attempts at "helpfulness" do nothing but upset Emma further. She overhears that Ben has asked different fellows from their district to ask her out and cries her eyes out feeling unlovable due to her being so accident-prone.
This book is filled with appealing characters with wonderful storylines. Anna Helmuth is still cooking her unusual meals and is knee deep in scheming to make her matchmaking take hold. Poor Felty Helmuth suffers the consequences of Anna's schemes but in the end, Felty is the one who helps resolve the stalemate between Ben and Emma.
There is a double happy ending to Huckleberry Spring which will truly delight readers. Between the laughter, romance, and conflict, this book is hard to put down. Hopefully this series will continue for a good, long time. These characters never get stale and always entertain. Jennifer Beckstrand has the rare ability to infuse interesting characters with growth and spirituality. Huckleberry Spring will be published on January 27, 2015.