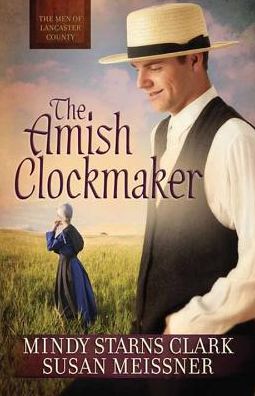 The Amish Clockmaker (Harvest House Publishers) by Mindy Starns Clark and Susan Meissner is a five star entertaining delight! This book has it all from romance to mystery. But not just your run of the mill romance and mystery. Both are written in depth and in a way that is unlike any other Amish novel out there. Readers should keep tissues handy as the end is tender and touching.
While trying to enlarge the family tack shop, Matthew Zook is told there is a parcel of land they want to build on that does not belong to the Zook family. It turns out that former land owners Mr. and Mrs. Clayton Raber still own that parcel of land and as a result, it had not been sold to the Zooks.
Clayton Raber, a clockmaker, had a terrible temper according to the Amish in the community that remembered him. It was thought that Clayton killed his wife back in 1955, however, although he was arrested for the murder, the charges were dropped. Clayton left the community and Amish church after being released from jail and it seems that no one knows where he went.
Matthew Zook desperately needs to find Clayton Raber to get him to sign a quick claim deed for the land before he can continue his remodeling project on his family shop. The book is divided into three sections, telling Matthew's story, Clayton's story, and the conclusion, which is divine. Truly, the writing is so beautifully done and out of the ordinary, that it makes this Amish novel hard to put down.
Mindy Starns Clark and Susan Meissner have been geniuses in writing this series, The Men of Lancaster County. The normal Amish novel has a female as its protagonist, but in this series, it is always a man telling the story. The Amish Clockmaker is Book Three in the series. All the books are fantastic but this last one, The Amish Clockmaker, is a flawless piece of literature, and a book anyone would be proud to have in their permanent library, regardless if they are a fan of Amish genre or not. The Amish Clockmaker was published February 1, 2015.