Sarah Price has written another instant hit with the novel The Matchmaker (Charisma Media). Jane Austen's Emma was the inspiration for The Matchmaker's theme. Sarah's impeccable attention to authentic details of Amish daily living is apparent in this book. This is an immensely enjoyable read with an essential message woven throughout.
Our protagonist, Emma Weaver, age 21, is a pretty Amish woman with blue eyes, who lives with her 65 year old widower father, Henry. Emma's cousin Anna, who spent years living with Henry and Emma just left their homestead to marry "Old Widower Wagler" the week before. Emma sadly feels the absence of Anna who was her substitute mother after Emma's mother died.
Emma has it in her head that she should be the town's matchmaker after she matches Anna with Mr. Wagler. Hannah Souder, is a 17 year old new Amish girl in town, and seems to have replaced the void in Emma's life since Anna left. Emma wants to exercise her matchmaking skills on Hannah and at naive Hannah's expense.
Everyone tells Emma how thoughtful and kind-hearted she is. Emma prides herself in having that reputation in the Amish community. It nevers occurs to Emma that she lacks humility in her dealings with family, friends, and neighbors. Emma who seems so perfect, finds she needs to rethink her actions.
There are many lessons readers can learn from this beautifully written novel, but in particular the lessons of humility and forgiveness shine through.
Previous to The Matchmaker, Sarah Price wrote First Impressions, An Amish Tale of Pride and Prejudice. First Impressions is the first book in the series called The Amish Classics. The two books released so far in the series are quality literature and would be a wonderful addition to any book collection. The Matchmaker was published on February 3, 2015.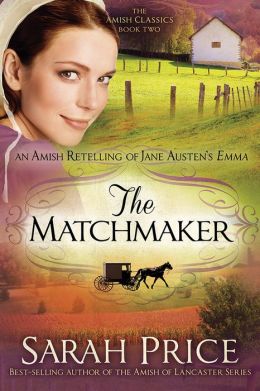 If you would like to learn more about The Matchmaker and visit other tour stops here is the link to take you to the Blog Tour List.
The Preiss family emigrated from Europe in 1705, settling in Pennsylvania as the area's first wave of Mennonite families. Sarah Price has always respected and honored her ancestors through exploration and research about her family history and their religion. At nineteen, she befriended an Amish family and lived on their farm throughout the years.
As a masterful storyteller, Sarah Price prides herself on presenting an authentic Amish experience for her readers. Many of her stories are based on actual people she has met and her own experiences living among the Amish over the years. Sarah now resides in Morris County, New Jersey with her family.
While she started out as an Indie author, she signed on with Realms, an imprint of Charisma House and Waterfall Press, an imprint of Brilliance Publishing. Her first book, First Impressions: An Amish Adaptation of Pride and Prejudice was released in May 2014.