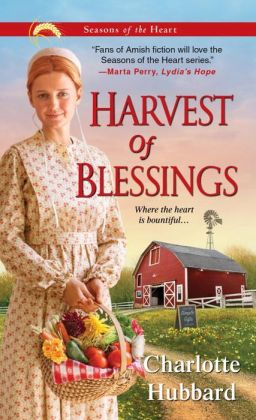 Charlotte Hubbard's Seasons of the Heart series has a delightful new addition with Harvest of Blessings (Zebra Books). Many of the same characters that were introduced in prior books in the series are back to entertain readers as well as a few new, interesting characters as well. For that reason, readers are recommended to read prior books in the Seasons of the Heart series before beginning Harvest of Blessings.
The story begins with former Amish Nora Landwehr, age 32, moving back to her childhood town, to try to make things right again with her family. At age 16, Nora left in shame to live with an out of town aunt, due to being pregnant but not married. When the baby was born, Nora left the baby girl, Millie, to be raised by her brother and sister-in-law. Millie is now 16 years old and has no idea that Nora is her real mother.
Nora, who has lived as an Englischer the past 16 years, comes back to town in a fire red BMW convertible, wearing short shorts, and raising eyebrows. She has many decisions and changes in life style to make. Should she return to the Amish faith or join the more liberal Mennonite church? How will Nora make a living in sleepy Willow Ridge, Missouri now that she spent all of her divorce settlement buying a home there? Can her splintered family ever find the love and forgiveness needed for the togetherness she seeks?
Themes of forgiveness for ourselves as well as our enemies and others are established throughout the book. Charlotte's excellent use of character development from beginning to end is stellar and creates some of the most romantic scenes ever in the history of the Amish genre. Charlotte also writes convincingly of the darker side of human nature within the storylines of Hiram Knepp and Tobias Borntreger.
Charlotte Hubbard's beautiful, descriptive writing will draw readers into the lives of the people of the small town of Willow Ridge, Missouri, making saying goodbye at the end of the book, very difficult to do. Harvest of Blessings was published February 24, 2015.