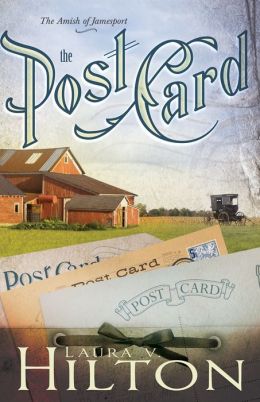 The Postcard (Whitaker House) by Laura V. Hilton will leave readers clamoring for more. The book will more than live up to the highest expectations. The Postcard will be book two in The Amish of Jamesport series. Each book stands on its own, no need to read book one prior to book two, although book one, The Snow Globe, is excellent as well.
Rachel Miller is a kind hearted young Amish woman from Jamesport, Missouri, with a penchant to reach out to sick and injured people she finds in the Budget newspaper. She likes to send letters and postcards, and from that, she has established a pen pal relationship with several of them. One in particular is David Lapp, originally from Lancaster, Pennsylvania, but now residing in Seymour, Missouri. David has been severely injured in a buggy accident while in Seymour and now needs a cane to walk.
The letters to David from Rachel are so filled with kindness, that when David thinks to leave Seymour, Missouri, he decides to head straight to Rachel in Jamesport. When David and Rachel see one another for the first time, it is love at first sight. Oh, but there are problems! Rachel is promised to Obadiah who is away in Ohio for a cabinet making internship. Then there is the problem that Rachel's older brother, Sam, seriously does not like David to the extent that he causes all kinds of damage and trouble. Additionally the Bishop in Jamesport calls David a "stray" and seems to always be looking over his shoulder, waiting for David to mess up. Is there any way for the true love between Rachel and David to triumph?
The biblical verses and prayers contained within the pages are very inspirational and significant, such as when David is afraid and fearful, he remembers Psalm 56, "What time I am afraid, I will trust in Thee." David wants to begin a men's bible study group, which is normally frowned upon in Amish circles. David has found the passage in the bible stating, "Believe on the Lord Jesus Christ, and thou shalt be saved." He wants to spread the message that anyone can be saved by admitting their sins and confessing that Jesus Christ is our Lord and Savior.
Laura writes some of the most delicious romantic scenes in Christian literature. Readers can't help but cheer on the endearing characters within the pages of The Postcard. Laura also knows how to write a villain or two into the script. The combination gives readers a first rate, page turning, five star hit. The Postcard will be published April 1, 2015.