The author, Amy Clipston, is sending me five bookmarks and five luggage tags which I will send one set each to five people, based on a random drawing, who comment on this review of her new book, A Mother's Secret. Please include your email address so I can privately contact you for your mailing address. Thank you Amy for your generous gifts!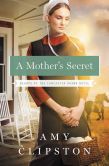 The second novel in The Hearts of the Lancaster Grand Hotel series, A Mother's Secret, by Amy Clipston (Zondervan) is an engaging, page turning, and stunning success. A Mother's Secret stands alone perfectly without reading the first book in the series, A Hopeful Heart. The third novel in the series, A Dream of Home, will be available in the fall of 2014. Fair warning however, A Mother's Secret is so enjoyable that readers will want to purchase the entire series.
The protagonist, Carolyn, has been judged harshly by some of the people in her Amish community for a mistake she made when she was 16 years old. She became an unwed mother and now at age 31, she still feels the sting of the mistake that she made. She and her son, Benjamin, age 15, live with her parents in the daadi haus on land owned by her brother Amos. Amos is constantly belittling Carolyn for her past, and in addition, his sons bully Benjamin.
At the Horse Auction, Benjamin is accused of throwing a rock at Joshua Glick's horse, causing injury and a veterinary bill. In reality, Amos's boys threw the rock but blamed Benjamin. Benjamin is made to work at Joshua's horse farm to pay the vet bill where he finds he loves working for Joshua and with the horses.
Amos begins pressuring Carolyn to find a husband and marry so she will be more legitimate and give her son a father. Carolyn doesn't want a marriage of convenience; she wants to marry for love. Still, Amos introduces Carolyn to widower Saul and she agrees to get to know him. Saul has a 10 year old daughter, a successful cabinetry shop, and a kind heart, but he has difficulty expressing his feelings. Joshua Glick, on the other hand, has no trouble expressing his feelings and he is beginning to fall for Carolyn. She needs to figure out which man is right for her.
A Mother's Secret incorporates several important messages within its pages. Carolyn works through shame and isolation to find true happiness. Amy Clipston writes brilliantly on the subject of forgiveness, not just God's forgiveness of sins but each person forgiving themselves and each other. In addition, the book includes the theme of trusting in the plan God has for each individual.
Amy Clipston gives readers a wonderful romance in the pages of A Mother's Secret. The romance is sweet, exciting, and refreshingly realistic. She perfectly captures that butterflies-in-the-stomach feeling between a couple as they first start to fall in love. There is also some very interesting conflict between the characters. The book is totally entertaining with creative three dimensional personalities having relatable problems, both good and bad characteristics, fears and successes, happiness and loneliness. It's simply a pleasure to read Amy Clipston's novels. A Mother's Secret will be available on June 3, 2014.