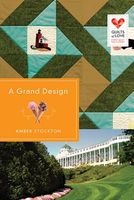 Amber Stockton's newest release is in the Quilts of Love series and is titled, A Grand Design (Abingdon).

This fun to read, sweet confection, runs deeper than your usual Christian romance novel.

Travel buffs will appreciate the setting of The Grand Hotel on Mackinac Island.

The vivid descriptions of The Grand Hotel and island will surely boost Michigan tourism.
The protagonist, 29 year old Alyssa of Grand Rapids is tired of watching all her friends and co-workers get engaged, have wedding showers, and marry, while she is standing still.

Alyssa does not have a boyfriend and hasn't dated in many years.

On a dare, Alyssa enters a Brides Magazine contest to win an all-expense paid two week vacation for two to The Grand Hotel on Mackinac Island.

Surprisingly, Alyssa wins the contest!
Alyssa calls her life-long best friend Libby, who is fun, flirty, and very vivacious, to go on the free trip.

Libby happily accepts.

Next Alyssa calls her grandma who lives on Mackinac Island to let grandma know she will be coming up to Mackinac Island to visit for two weeks.

Alyssa's grandma is thrilled as she has not seen Alyssa in 14 years.

In the past, Alyssa and her father would come up to Mackinac every summer to visit grandma, but the year after Alyssa's father died was the last time Alyssa visited her grandma.
As soon as Alyssa and Libby arrive at the dock of the lake, two handsome men, Scott and Ben, employees of The Grand Hotel, appear in a boat to take the girls over to the island.

Ben immediately starts flirting with Libby, and she flirts right back.

Alyssa wishes she could just let go of her cautiousness and be glib too, but she just isn't that type of girl.

Scott appears disgusted by Ben's showing off and over familiarity with Libby, but at the same time, Scott can't seem to keep his eyes off of Alyssa.
Alyssa and Libby meet with Alyssa's grandma and she explains a project that she wants them to do.

She wants the girls to look up her old quilting friends and pick up from each one a quilted block that will be joined together with the other blocks to form an heirloom quilt.

Grandma contacts Scott to provide transportation for Alyssa and Libby as they visit each of grandma's old quilting friends.

And suddenly a friendship, or could it be a romance, is brewing between Scott and Alyssa.

Can Alyssa get over her reticence and begin a relationship with a man?

Will Scott figure out why Alyssa has such an obvious problem with men?
A Grand Design contains the best elements of a Christian romance novel.

It is a delicious read filled with spiritual content, effective characterization, interesting mystery, and wholesome humor.

Amber Stockton has much to offer in this stand-alone novel that is a part of the Quilts of Love series.

A Grand Design will be published August 19, 2014.