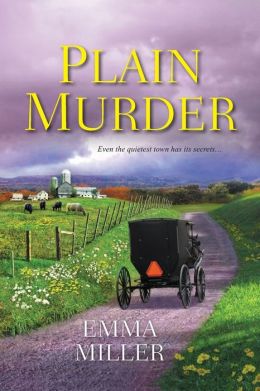 Emma Miller, author of the popular and engaging Hannah's Daughter's series, has turned to the Amish mystery genre with Plain Murder (Kensington Publishing).

Plain Murder does not disappoint; it has plenty of mystery, romance, and Amish culture within its pages to more than satisfy readers.
The protagonist, Rachel Mast, left her Amish family while in Rumspringa to get her degrees, including an MBA at Wharton.

She went on to work in corporate America, but after 15 years away from her conservative Old Order Amish roots, she has come back to live in Stone Mill, Pennsylvania.

Rachel finds herself with one foot in the Englischer world and one foot in her old Amish community.

Rachel has used all her savings and retirement funds to buy and restore an old home and turn it into a bed & breakfast and gift shop in Stone Mill.
The story begins with Rachel's Amish cousin, Mary Aaron Hostetler, running into the bed & breakfast looking for Rachel's help.

The body of Willie O'Day, a tight fisted Englischer businessman has been found on Mary Aaron's father's farm.

Willie had been missing for eight months, but it turns out he had been buried on Aaron Hostetler's land all that time.

Everyone in the community knew that Aaron Hostetler and Willie O'Day feuded back and forth for years.

But no one could believe that an Amish man would kill an Englischer.
Aaron Hostetler is a stubborn man and strictly follows the Ordnung.

He doesn't want an attorney to help him defend himself when the police question him.

Rachel feels it is her duty to help her uncle clear his name and she begins snooping around to find out all she can about Willie's last day.

Rachel has some extra help from her friend Evan who is a police officer in Stone Mill.

The author provides many likely suspects and plenty of clues, some real and some red herrings, as readers follow Rachel all over town looking for the real murderer.
If readers are looking for a cozy murder mystery with a generous dose of Amish as well, Plain Murder is the book to read.

This book is totally entertaining and figuring out who did it is not as easy as readers may think.

Emma Miller's follow up to Plain Murder will be Plain Killing, set to be published on December 30, 2014.

Readers will want to be first in line to read Emma's next Amish mystery.

Plain Murder was published December 31, 2013.