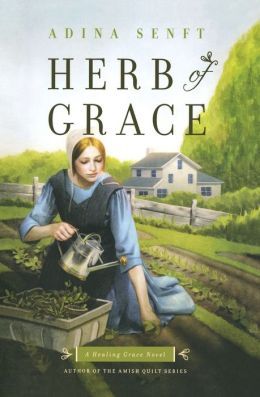 Herb of Grace by Adina Senft (FaithWords) is a genuine must read for those who love Amish fiction.

Readers will not be able to put this book down until finished, it is just that great and filled with honest characterization.

The Amish authenticity in the writing is much appreciated.

It is evident that Adina has spent time around the Plain People.

As the last page is completed, readers will be clamoring for the next book in the series, Keys of Heaven.
This interesting tale begins with Sarah Yoder, a 38 year old Old Order Amish widow, still missing her husband who died five years earlier and worried, as usual, about finances.

Sarah counts on her 17 year-old stepson, Simon to hand over half his paycheck to keep the household going.

Her 14 year-old son, Caleb, is trying hard to find odd jobs to do to help out as well.

Sarah grows vegetables for their dinner table and herbs to sell at the Willow Creek Amish Market on Saturdays.

But Sarah has not been able to pay her in-laws the mortgage payment in six months.
Ruth Lehman, is the Dokterfraa, an herbal healer whose informal practice encompassed most of the Amish district.

Ruth thinks Sarah should take over part of her practice and make more money than Sarah had been earning at the Amish market.

Sarah doesn't have the belief in herself to take on being a Dokterfraa.

Ruth asks Sarah to pray about it.

Sarah finds many issues to pray about throughout the book.
Next door to Sarah, Henry Byler, age 42, has just moved in after inheriting the house and land from his Aunt Sadie.

Henry grew up Amish but moved away to Denver before his baptism, and drifted away from his religion to become an Englischer.

Although there were plenty of other relatives to leave her property to, Henry assumed Aunt Sadie wanted him to come back to his roots.

Henry has a talent as a potter, but needs to find work somewhere if he is going to stay in Willow Creek.

And he comes to realize he would like some company too, but who?
In a separate storyline, Sarah's stepson, Simon is being pursued by pretty little Priscilla.

Priscilla is trying every trick in the book, but Simon seems content to just maintain their friendship.

Simon's best friend, Joe, however, is sweet on Priscilla and asking her to ride in his courting buggy.

But all Priscilla can think about is Simon.

The author truly knows how to write teenage romance, it feels real and authentic.
Herb of Grace is filled with spiritual insights and multilayered storylines.

At times readers will be chuckling and other times, misty eyed as the book unfolds.

The characters for the most part are endearing and completely relatable.

Herb of Grace is a five star recommended book; it will be published August 5, 2014.
Adina Senft