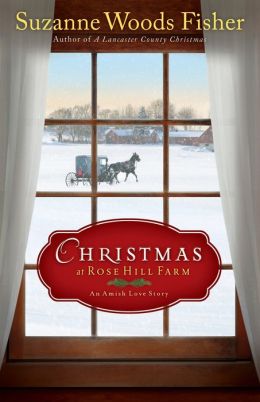 There is nothing better than settling down in your favorite chair to read an Amish romance novel by one of the best authors in the Amish genre, Suzanne Woods Fisher.

Her Christmas themed novel, Christmas at Rose Hill Farms (Revell) should top the charts with the enduring romance and rare rose descriptions enclosed within its pages.
Bess Riehl, an Amish girl 20 years of age living in Stoney Ridge, Pennsylvania, is about to get married to Amos Lapp, a sweet, kind, young man who is perfect in every way except he isn't his cousin Billy.

Bess and Billy grew up together and fell in love despite Billy's dreadful family life.

Billy's father liked to pit his sons against each other.

Billy was the youngest of four brothers and it always seemed like the older three ganged up against Billy.

Billy's Mom died when he was young, and everything went from bad to worse.

Billy found solace by spending more time with Bess and her grandmother, Bertha, at Rose Hill Farm until the day came that Billy couldn't take his horrible family life anymore and ran away, ending up as a rose rustler at Penn State University.
After Billy ran away, Bess spent years waiting for him to return.

Finally she had to admit he wasn't coming back and she started a friendship with Amos.

Just before Christmas, they got engaged but with just days to go before her marriage to Amos, Billy showed up at Rose Hill Farm.

All of the repressed romantic feelings Bess had for Billy came rushing back but Billy was cold as ice towards her.
The wedding day has arrived and the chickens are roasting, carriages filled with family and friends are arriving, and Bess is sick to her stomach wondering if she should go through with the marriage to Amos.

Billy has made it crystal clear that he has no interest in her or staying in town.

Everyone including Billy tells Bess that Amos is as good a man as ever lived.

Can Bess and Amos find happiness?
Suzanne Woods Fisher inserts the prior history of Billy and Bess during their younger years where appropriate so readers can figure out the burdens that Billy carries and fully understand his character.

The background of the story involves finding an extinct rose at Rose Hill Farm that needs to be identified.

Readers will find themselves captivated by the history, beauty, and perfume of the roses talked of within the story.

God's faithfulness and forgiveness, the necessity of talking to God and accepting God's help are some of the beautifully written themes throughout the book.

Christmas at Rose Hill Farms will be published September 2, 2014.