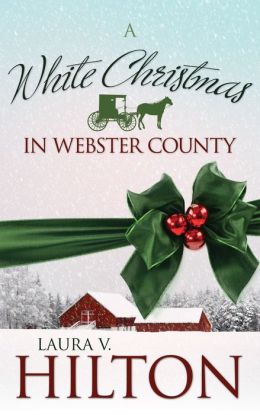 Laura V. Hilton has penned a page turning, delightful romance, A White Christmas in Webster County (Whitaker House) set during the Christmas season.

This tale is filled with compelling characters within situations that readers will be cheering for throughout the book.

Also notable, Laura uses multiple Amish words in the text, but always within an easily understood context, so readers will feel like they are learning Pennsylvania Dutch just by reading the book.
This is the story of Mercy Lapp and Abner Hilty both from Shipshewana, Indiana but they grew up in different districts and were only vaguely acquainted with each other.

They are both now are in Webster County, Missouri.

Mercy, after losing her fiancé to a fishing accident, answered an ad and is helping out as a mother's helper while Abner is visiting his newly married twin brother.
Both Mercy and Abner happened to be in the variety store at the same time, when Abner starts flirting with Mercy.

Before she knows what is going on, Abner invites Mercy on a date to McDonald's for an eggnog milk shake.

Next Abner follows Mercy to the grocery store and continues his talking and flirting, but he goes too far and scares Mercy by his being way too forward for an Amish boy.

Abner has fallen hard for Mercy, but she has vowed not to ever fall in love again.

But there is something about Abner that is captivating to Mercy.

She is tired of being sad all the time and Abner is so full of life and love for God.
Mercy and Abner have a timing issue as he plans on going to Montana in January and she will need to go back home to Indiana after her mother's helper job is over.

Laura V. Hilton has given Mercy and Abner several exciting adventures as well as serious struggles during their time together in Webster County.

Mercy needs to decide if it is more important to obey her parents in all things or to have a chance at marital happiness for the rest of her life.

Choices like that are difficult for an obedient Amish girl to decide.

Deeply meaningful biblical verses are quoted frequently throughout, which give strength to Mercy and Abner, as well as readers.
Laura V. Hilton has brought back characters from some of her past Amish novel series, but A White Christmas in Webster County stands on its own, there is no need to read other books first.

Laura also provides a delicious cookie recipe in the back of the book.

A White Christmas in Webster County was published September 1, 2014.

Readers should be aware that Laura's next book, A Snow Globe begins her next series, The Amish of Jamesport and will be published in early November, 2014.