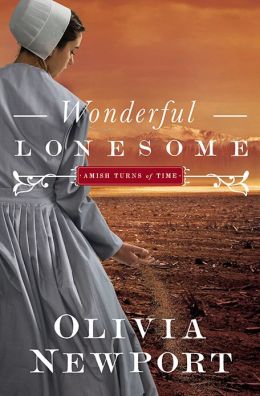 Olivia Newport has penned a fabulous historically accurate novel in Wonderful Lonesome (Shiloh Run Press).

This novel is achingly beautiful and rich in the descriptive prose of the Colorado landscape and the Amish farmer's reality of drought and poverty.
Our main character Abbie, 23 years old, has moved with her family a few years ago, from Ohio to Elbert County, Colorado.

It is now May, 1914 and the small community of twelve Amish families is suffering both spiritually and financially.

There has been almost no rain for two years.

Last year's crop was destroyed by drought and this year's crop isn't looking any better.

Spiritually, the community is also facing a drought.

They have not had Sunday services in months.

They do not have a Bishop or ministers and none of the nearby Amish Bishops will visit and conduct services.
Abbie strongly believed that if only the twelve families in their small Amish community could find a minister to preach and conduct services, it would bring the community closer, more united, and they could attract more Amish families from back East to join them.

But no one steps up and despair grows within their hearts.

The Amish families are barely scraping by; day after day of scorching sun is ruining their crops.

Illness, poverty, and depression are taking a toll on the families.
Even in the midst of all this misery, Abbie continues her courtship with Willem, a single Amish man who also uprooted himself from back East and bought significant acreage in Colorado. He is determined to succeed.

Willem and Abbie have been courting for a couple of years while Willem tippy toes around the marriage question.

Abbie keeps waiting for his proposal.

Another single Amish neighbor, Rudy, has his eyes on Abby as well.
Olivia Newport has beautifully written a heartbreaking, yet uplifting novel of Amish life in 1914 Colorado.

She delves into the question, is it really an Amish community if the community never has church services and has no minister?

Abby and Willem are of one mind on many subjects, but what happens when spiritual matters leave them divided?

How many disasters and disappointments does one endure?

At what point does one give up and return back East?

Wonderful Lonesome is an extremely thought-provoking and readable book.

This appealing, page-turning book was published September 1, 2014.