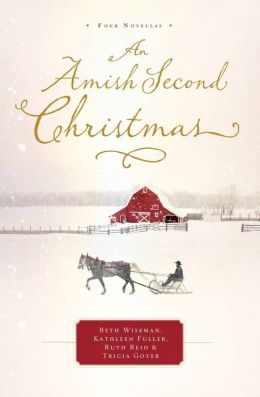 A quartet of top notch Amish fiction authors, Beth Wiseman, Tricia Goyer, Kathleen Fuller, and Ruth Reid, present four delightfully romantic Christmas themed novellas in An Amish Second Christmas (Thomas Nelson).

Each novella is captivating with a full story told including a joyous happy ending making An Amish Second Christmas perfect for a warm and comfy read during the cold months of winter.
The first novella is When Christmas Comes Again by Beth Wiseman, which tells the tale of newly widowed Katherine living in Bird-In-Hand, Pennsylvania with four children having difficulty handling their dad's death.

Her oldest, Mary Carol, is 18 years old, still in her Rumschpringe, and is dating Abe.

Abe is having trouble keeping his ardor for Mary Carol under control.

The youngest, 5 year old Gideon is drawing on the walls of his room to try to express his grief.

What appears to be a homeless man is following Katherine around town but is it possible that this confused, elderly man has the answers to all their problems?
Next up is Her Christmas Pen Pal by Ruth Reid.

Joy is a young Amish woman who has taken on the job of running her family's bakery in Sugarcreek, Ohio after her parents perished in a fire.

She has been waiting for her special friend, Henry, to propose but Henry seems to have lost interest in Joy and has turned his head towards his previous girlfriend, Priscilla, the bishop's daughter.

Joy mails her cousin a letter and cookies explaining her heartache.

The package arrives at the wrong house but the young Amish man, Noah, who receives the package, decides to write Joy back and a pen pal relationship ensues.

Can Joy's pen pal help her see Henry for who he really is?
The third novella is A Gift for Anne Marie by Kathleen Fuller.

This charming story takes place in Paradise, Pennsylvania with Anne Marie, 20 years old, waiting for her friend, Nathaniel, who is also 20 years old, to arrive to play board games.

Anne Marie never thought of Nathaniel in a romantic way until her friend Ruth asked her to put in a good word for her with Nathaniel.

Ruth wants to date Nathaniel and suddenly Anne Marie feels uneasy about sweet, thoughtful Nathaniel dating Ruth or is she really feeling jealousy?
The final novella is Christmas Aprons by Tricia Goyer, which takes place in the beautiful mountains of Montana.

Quiet and shy Esther is staying with her cousin, Hannah, to help care for Hannah's new baby. While at Hannah's house, Esther's mother sends her super secret recipe for Vanilla Crumb Pie (and the recipe is included in the book!).

Esther bakes a Vanilla Crumb Pie to take to the fundraiser for the fire department.

Everyone is hoping that Esther will finally make a friend with her special pie.

Can a pie really spark a romance?
This enjoyable set of stories will be published October 14, 2014.