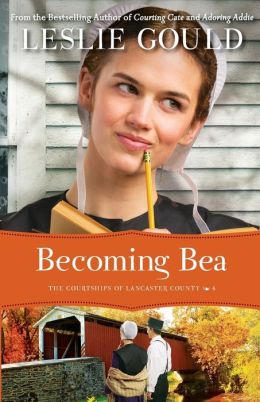 Becoming Bea (Bethany House) by Leslie Gould is a book to be savored for each of its 345 pages.

Leslie Gould has exquisitely written of the human shortcomings faced by men and women alike and the desire for becoming the person God would like them to be.
In this book, Bea, age 21 is fighting her critical nature.

She lives on a farm in Lancaster County, Pennsylvania with her widowed Mom and married sister and brother-in-law, Molly and Leon.

Bea is an introvert and homebody, but she has come to realize she has become petty and mean spirited, and that some people see her as critical and overbearing.

This is definitely not how Christ would want her to live her life.
Bea has made it known that she has no desire to ever marry.

The truth is Ben, her long-time friend and academic rival since grade school, had dated Bea for a short while.

When he broke up with Bea, her heart turned cold.

Apparently the only thing they have in common is Ben also states he never wants to get married.
When Bea's older sister Molly announces that the whole family is going to visit Montana for a couple weeks, Bea revolts and manages to find a mother's helper job so she doesn't have to go.

Bea has never tended babies before but she learns in a hurry since it is premature triplets that will be in her charge.

She comes to love taking care of the babies, but her nemesis, Ben, is working at the woodworking shop next to the house she is working in.

Ben is always around, taking meals at the same table as her, talking to her when he is on a break, and asking her to go to a singing.

Where in the world is this relationship headed?
Becoming Bea is a thought provoking book, filled with ups and downs for all of its characters but thankfully delivering a happy ending.

Interspersed are beautifully written, gorgeous scenes which paint the fall season in all its glory in Lancaster County.

Readers of Amish fiction will love Becoming Bea.

Its pages are filled with romance and conflict, God's good words and human imperfections.

Becoming Bea is book four of The Courtships of Lancaster County series, but this book easily stands on its own.

It was published October 21, 2014.