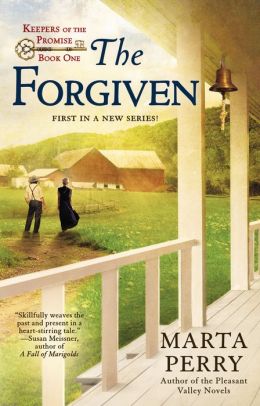 This tour de force Amish novel by Marta Perry, The Forgiven (Berkley Publishing), has all the drama, romance, conflict, and God's good word that readers are looking for. Marta Perry has told a beautiful story within the pages of this comforting novel. Readers should be prepared with tissues when reading the finish of The Forgiven.
Part of what makes this novel so distinctive is that Marta weaves two unique stories throughout the book. Our lead character Rebecca, a young widow with two children, is helping her grandmother clean out the attic of her home. Rebecca finds an old diary and begins reading about the life of Anna Esh, a young girl living during the early 1940's, so we have Rebecca's story and Anna's story combined in one page turning book.
Rebecca is suffering from financial problems and decides to rent the stable on her farm to a returned from the Englisch world Amish man, Matthew, for his newly started woodworking business. Matthew has a shady reputation since he left his Amish roots to live among the Englisch. What most people don't know is that Matthew still doesn't believe he belongs with the Amish due to his bad temper. He is having difficulty maintaining the no violence covenant of the Amish. Matthew has yet to forgive himself for bad conduct while living with the Englisch. He regretfully feels he can never marry and settle down with an Amish woman due to his violence in his past. Matthew needs to find a way to forgive himself in order to move on in his life.
Rebecca has her own problems to deal with including living with the ghost of her dead husband, Paul, overshadowing her every decision. She hates that he is gone and tries to do everything that Paul would have done but it is so hard to carry on alone. How can Rebecca manage to do all that Paul use to do by herself?
Anna's story gives insight on how it was to live during World War II while a part of the pacifist Amish community. This is such an interesting storyline, filled with emotion, pain, and romance. So much about today's lives can be learned from looking back at historically significant times. The Forgiven, which is Book One in the Keepers of the Promise series, is not just a simple Amish romance novel. This book is a genuine jewel and will have readers thinking long after the last page is read. The Forgiven was published October 7, 2014.