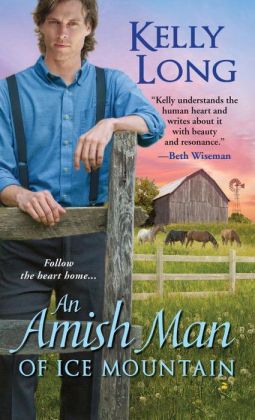 Readers looking for an Amish romance novel with adult content will be thrilled by An Amish Man of Ice Mountain (Kensington Publishing) by Kelly Long. Kelly has long been a favorite author of Amish fiction. Her stories are different, with twists and turns to keep her readers interested. This story does contain explicit sexual scenes as well as story lines involving domestic violence and sexual abuse by an adult woman and an underage male. Readers should be aware of this as you cannot judge this book by its cover. Having said that, the book is captivating, filled with adventure, challenges, and the good people of Ice Mountain. An Amish Man of Ice Mountain is book two in the Ice Mountain series, but stands alone without reading book one, The Bride of Ice Mountain, an intriguing novel.
The story begins with two Amish brothers, Joseph and Edward, working on a gas drilling rig in West Virginia. The brothers rent a room at the Bear Claw Inn where a single Mom, Priscilla, with her five year old daughter, Hollie, have just rolled into town trying to outrun her abusive former husband. Priscilla gets a job waiting tables at the Bear Claw Inn where she meets Joseph.
Joseph is immediately drawn to her and Hollie, but they agree to start as friends. When they find a "Missing" poster of Priscilla and Hollie in the local hospital cafeteria, Priscilla realizes her ex-husband, Heath, is after her again. She and Hollie are not safe any longer and must immediately move on. Joseph volunteers to take them to his family's home in the mountains of Appalachia.
Joseph's family accepts Priscilla and Hollie immediately. Even the Bishop of the Amish community is willing to accept the divorced mother and child. That of course is not the end of the story, but only the beginning. What follows are more adventures, romance, terror, reconciliation, and realization of God's plans for Joseph and Priscilla.
The ending of An Amish Man of Ice Mountain nicely sets up book three in the series, The Amish Heart of Ice Mountain, coming out in November, 2015. An Amish Man of Ice Mountain will be published April 28, 2015.