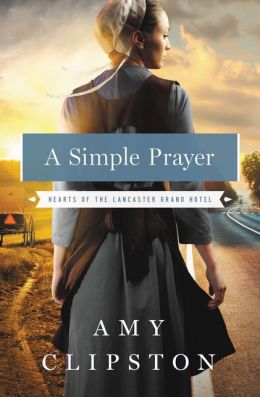 Readers looking for a fascinating, cannot put down Amish romance novel, please look at A Simple Prayer (Zondervan) by Amy Clipston. A Simple Prayer is the fourth book in the highly regarded Hearts of The Lancaster Grand Hotel series. This series features books that are loosely intertwined with some of the same characters yet each book stands on its own. Each book is fresh and has a new storyline.
This novel is entrancing and beautifully written with the setting of Lancaster County, Pennsylvania as a backdrop. The main characters of Linda Zook and Aaron Ebersol are written with realism and grace and wonderful character growth. Readers will be rooting for them through all the twists and turns of their relationship as both are pleasing, God fearing characters with tragic backgrounds. Linda was orphaned at age four and was raised by unwilling relatives. Aaron started running with a wild crowd as a teen and left the Amish community at age 15 when he felt his parents disapproved of him. Both feel unworthy of love and find themselves still single in their early 30's.
After 17 years gone and making a new life in Missouri, Aaron comes back to Paradise, Pennsylvania when he hears his mother has suffered a severe stroke. Not everyone in his family is happy to see him return. Aaron is determined to make amends to his family and the community for his troubling behavior as a young teen before he leaves to go back to Missouri.
Aaron was not baptized in the Amish faith when he left so long ago and Linda is unsure if she should get involved with him as she is a baptized member of the church. He feels that Linda could be the one for him but how does he know he is reading God's plans for him correctly. Indeed, how does anyone know that? Painful relationships can make even a strong person want to retreat and run away. How does one interpret what God wants us to do? Should Aaron absorb the pain, run away, or stand up for himself? Can Linda and Aaron resolve the religious differences between themselves? Amy Clipston answers all these questions in a thought-provoking and realistic way.
A Simple Prayer will entrench itself in reader's hearts, not soon to be forgotten. Amy Clipston is a top notch writer with a five star hit in A Simple Prayer. A Simple Prayer will be published May 5, 2015.