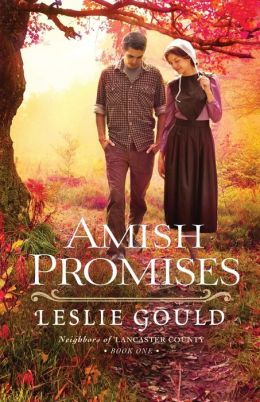 Leslie Gould has begun an excellent new series. Neighbors of Lancaster County, and Book One in the series, Amish Promises (Bethany House) more than lives up to the high standards readers have come to expect from Leslie. She has penned a most interesting tale that will keep readers guessing until the end. The characters are so well written that readers can't help but care how their lives will turn out.
Englishers, Shani and Joel Beck and their twelve year old son, Zane, move into a home in Lancaster County. Shani is hoping the move to this quiet county will help her husband recover from the war wounds he received in Iraq. Besides serious leg wounds, Joel also suffers from Post-Traumatic Stress Disorder (PTSD). He has become withdrawn from both Shani and Zane and spends most of his time sitting in the dark watching television.
Right next door to the Becks live an Amish family headed by Tim Lehman, a widower, and his five children plus Tim's sister, Eve, who takes care of the children and household. Tim is a bitter, controlling man who is not happy that Englishers have moved next door and seem to constantly be in his home. Eve and Shani have become fast friends and Zane is always over to play with Tim's children. Tim is constantly trying to eliminate the influence of the Englishers over his family.
The Amish bishop for the community is also a widower and has let it be known he is interested in Eve. He is a kindly, decent man, although somewhat older than Eve. Around the same time, Charlie, an Army friend of Joel's comes to visit and is quite taken with Eve. Eve, against her better judgement, is interested in Charlie too. Tim is very emphatic that Eve is not to see Charlie ever. Nothing good can come from an Amish girl and an Englisher boy having a friendship according to Tim. Who will win Eve's heart, the good natured Amish bishop or the Charlie, the ex-military Englisher?
This book is so enjoyable and readable. It does deal with the emotional turmoil that serving during war time entails. Also of note is the reminder that although neighbors are of different religions and beliefs, there is so much more that people share and have in common. The timely message of "love your neighbor as you would love yourself" comes shining through. Leslie Gould's writing is very entertaining and uplifting. Amish Promises will be published on May 5, 2015.