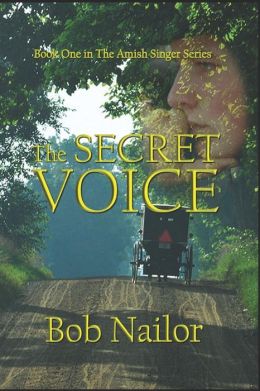 The Secret Voice (Shadow Street Press) by Bob Nailor is not a typical Amish romance novel. This novel gives a historical view of early 1960's Amish family life as well as the beginnings of the integration of an African American Chorus teacher in an all-white rural upstate Ohio high school. The author skillfully weaves in the topical news of the early 1960's, giving the reader an in-depth view of the times. The Secret Voice is Book One in the new series by Bob Nailor entitled The Amish Voice.
The story begins in July, 1961 as the school board, on a close vote, has hired the first African American teacher, Julie Bronson, for the high school to teach Chorus. Julie is offered a small trailer to rent since there would be no other rental opportunities for her in town due to her race. Readers should be aware that crude and ugly language, typical for the 1960's, is used throughout the book.
The protagonist, Daniel, is a 14 year old Amish boy who wants to continue his education beyond the eighth grade which is the time that Amish children stop attending school. Daniel asks and receives his father's and the Amish community's bishop's permission to enter high school.
Daniel begins his freshman year in high school knowing his father and the bishop have forbidden him to take General Science so Daniel has his Science class changed to Chorus. As Julie Bronson listens to Daniel sing, she realizes what an extraordinary gift he has. However, will it be possible for Daniel to convince his father and the bishop that he isn't turning English with all this education and singing he is doing? Will Daniel be able to compete in the state singing competition?
The author gives Daniel some romantic scenes as well. He is confused between his attraction to a pretty English school friend, Molly, and an Amish girl, Ruth, that is attracted to him. These scenes are well written and appropriately convey the angst of the early teen years. The Secret Voice is an excellent new entrée in the Amish fiction genre. It was published April 8, 2015 and is available on Amazon and Barnes & Noble.