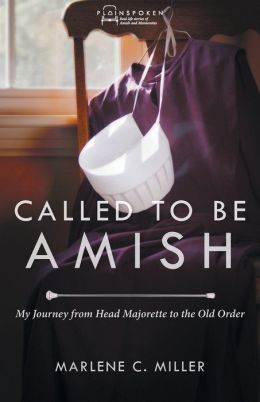 Author Marlene C. Miller gives readers a look into the daily lives of her Amish family in this nonfiction book, Called to Be Amish (Herald Press). This book is perfect for those who idolize the Amish way of life or those who may have wondered, "Could I ever live as the Amish do?" Realizing that this is only one Amish family's story, it still was ultimately eye-opening as to the extreme work ethic and sacrifice it takes to be Amish.
Marlene was born into a dysfunctional Englisher family. As a child, her grandmother took her to church since her mother felt church was only for old people and children. There was a lot of fighting, yelling, infidelity, and drinking by Marlene's parents. She did, however, enjoy many extracurricular activities in high school such as music, band, cheerleading, and being a majorette.
As a teenager, Marlene started to date an Amish boy, Johnny, that she met ice skating. After going together for three years, they got engaged at her high school graduation in June, 1962. By the winter, Marlene was pregnant and no wedding date had been set. Johnny was having second thoughts about marrying an Englisher. He realized he didn't want to leave his Amish faith behind. But Johnny finally agreed to marry Marlene April 20, 1963.
By the fall, in October, 1963, Marlene realized she wanted to become Amish. This started the beginning of a long, arduous process of proving herself before she could become an accepted, baptized member of the Amish faith.
When Marlene wrote of her children and their lives, the immense hardship, poverty, and daily exhaustion was almost overwhelming. She had ten children in thirteen years. So many children to cook and do laundry for, clean up after, and keep track of while she also tried to keep up on her garden, canning, and farm chores. Marlene revealed the numerous injuries, accidents, poisonings, and hospitalizations her children endured during their growing up years, and it was simply heartbreaking.
There is a reason why so few Englishers ever successfully convert to the Amish faith. Marlene capably pulls back the curtain into her Amish household and reveals the truth and the hardships behind the lifestyle of the Amish. Readers are sure to be amazed by this insightful and inspirational book by Marlene C. Miller. Called to Be Amish was published February 9, 2015.