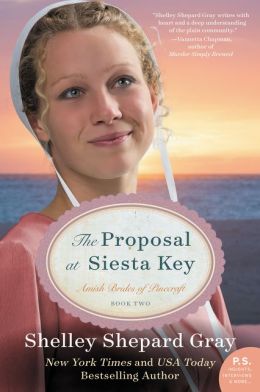 Shelley Shepard Gray wowed Amish fiction readers with Book One in the series Amish Brides of Pinecraft, The Promise of Palm Grove. Book Two in the series, The Proposal at Siesta Key (Avon Inspire) is even better. Readers will applaud the plot, interesting characters, and inspiration that Shelley puts into this book.
The plot reveals controlling parents that do not want to allow their adult children to be adults and make decisions and choices for themselves. Twenty four year old Penny is slowly being suffocated under the watchful eyes of her parents. Her parents justify their domineering ways due to Penny's older sister being murdered years ago when the family lived in Ohio. Twelve years later and they still question Penny's every move and limit her freedom. Penny is determined to break free, be able to go out to gatherings with other young people, and get a job.
Penny decides to go to a gathering to hear a missionary family, the Knoxx Family, speak in Pinecraft Park, against her parent's wishes. She is inspired by the main speaker, Michael Knoxx. Michael's testimony always told of his bicycle accident in the mountains of Colorado and falling twenty feet into a narrow ravine. He had waited twenty-four hours to be found. He had badly injured his leg and only his will to live and faith in God kept him alive. He ended up losing the lower part of his right leg. His family told him that his celebrity status was his cross to bear. All Michael wants is to stop traveling and to have a normal life but he doesn't see how that can happen when his whole family depends on him to speak to the crowds.
After the gathering in Pinecraft, Florida, Michael's leg is hurting worse than ever. Penny finds him leaning against a fence, praying the shooting pain will dull. Michael rebuffs her offers to help him, but just a few days later, Penny ends up getting a job being his part time caretaker at the Orange Blossom Inn as Michael recovers from another surgery on his leg. Michael's family has gone onto the next stop on their tour to honor their commitments, but to Michael's despair, his family expects him to join them as soon as he recovers.
Michael suggests a proposal to Penny. Michael suggests to Penny that they start learning to embrace each hour, each day; they promise to cherish each moment in their lives and to live life to the fullest. Can Penny and Michael break the chains that bind them to their over-protective parents? Will they be able to lead their own lives and have a normal relationship with their families?
This beautifully written book holds many surprises, character growth, and inspiration for all readers. The Proposal at Siesta Key was published May 12, 2015.