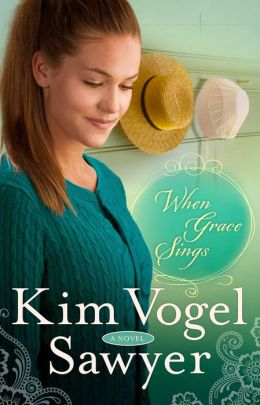 Kim Vogel Sawyer has delivered an excellent follow up to When Mercy Rains in The Zimmerman Restoration Trilogy with the publication of When Grace Sings (Waterbrook Press). It is the perfect continuation of the Zimmerman Family story, yet, When Grace Sings can stand alone on its own with no problem. It takes a mighty fine author to achieve that level of clarity within each volume of a series. However, readers would be well served by reading Book One, When Mercy Rains, since it is also one of the finest inspirational Amish novels.
The story opens with Briley Forrester, a mid-20's journalist working for Chicago's Real Scoop tabloid newspaper, getting his assignment to go live among the Amish. Briley is to disprove the idea that Plain living brings peace and joy and show examples of discontent with their simple existence. If he can come up with a compelling story, his story will make the front page of the Real Scoop, which is what Briley really craves. He wants the recognition and praise that a front page story will bring.
Briley will stay two to three months in The Grace Notes Bed & Breakfast in Arborville, Kansas, a Mennonite and Amish community. The Grace Notes B & B is run by Alexa Zimmerman, but is owned by her Grandmother. Briley immediately starts flirting with Alexa when he arrives at the B & B, but Alexa quickly sets him straight and puts him in his place.
Another young man, Steven Brungardt from Sommerfeld, Kansas, is visiting at the B & B. He's about to marry Grandmother Zimmerman's niece, Anna-Grace. Steven has just been gifted a wonderful farm and a fixer-upper home in Arborville from his parents. Everyone thought that Steven and Anna-Grace had it made to be able to start off with a paid off home and lots of acreage to farm. Everyone but Steven is happy. Steven is despondent with his future. He is holding in a secret.
Steven's fiancé Anna-Grace travels to Arborville to help Steven fix up and decorate their new home. Anna-Grace is a sweet Mennonite girl, the oldest child of her adoptive parents. Anna-Grace is unsure about moving away from her family and all that is familiar to her in Sommerfeld. Steven assures her that if she is unhappy in Arborville, he will sell the farm and they can resettle elsewhere.
There are so many problems, questions, and secrets to resolve in Arborville plus a nosey tabloid reporter butting in to hopefully find a scandal. Thankfully Kim Vogel Sawyer is an excellent author who keeps the story fresh and eminently readable. The book is first-rate, well told, and filled with the message to trust in the Lord. When Grace Sings was published on March 17, 2015.