Easter is quickly approaching and each year my husband and I invite my sister's family, my mom, our daughter and her fiancé to brunch. We have the typical Honey Baked Ham, crisply fried bacon, savory sausage egg casserole, cheesy potato casserole, fruit salad, peach jello salad, a couple of coffee cakes, blueberry mini muffins, fresh orange juice, chocolate milk, mimosas for the adults, coffee, and cookies.
Last year I made sugar cookies that I decorated with tinted coconut and then placed mini jelly beans on the icing to make the cookie look like a birds nest.
They were great and fun to make with my daughter, she's 26 but still likes to bake cookies with her mom.
The only problem was those cookies were so intensely sweet.
I want to make something different this year for my after Easter brunch dessert cookie.
Then I remembered an Amish recipe that I had seen for a cookie called Raisin Puffs.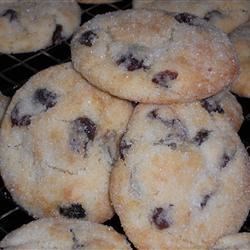 These cookies are delicious, light and puffy like their name, and not too sweet.
Here's the recipe and directions:
Boil raisins in water till the water is gone. The let the raisins cool.
1 cup softened or melted butter
Add the butter and baking soda to the cooled raisins.
In a separate bowl, beat together vanilla, eggs and sugar until well combined. Add the raisin mixture to the sugar/eggs mixture and stir.
3 1/4 – 3 1/2 cups of flour
Combine the flour and salt with the above raisin mixture in a large bowl, mix well. At this point, chill for a couple of hours in the refrigerator.
Flour your hands and roll the dough into small balls.
Mix sugar and cinnamon well in a small bowl or plate. Roll the dough balls in the sugar/cinnamon mixture.
Place balls on ungreased or parchment paper lined cookie sheets. Bake at 350 degrees for 8 to 10 minutes or until puffed but firm. Makes 3 – 5 dozen depending on the size of your dough balls.