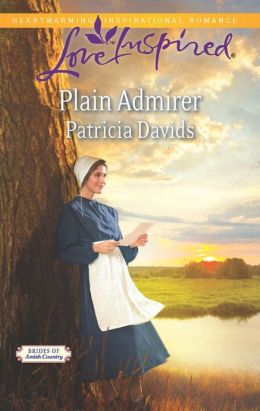 Patricia Davids writes a book for all the underdogs which is both inspirational and encouraging in Plain Admirer (Harlequin Love Inspired). Plain Admirer combines the best of romance with a sprinkle of mystery, as well as excellent character development, in a fast paced novel. This book is part of the Brides of Amish Country series but reads as a stand-alone novel.
Joann is the youngest in her family. Her parents have died and now she is passed around like yesterday's leftovers. She stays four months at each one of her three brother's households in Hope Springs, Ohio. Never having had a proper home has left her feeling unwanted and undesirable. Joann has accepted her fate as an old maid, but yearns to have a home of her own. She has almost saved the down payment she needs for a small home when her boss calls her into his office to end her employment. Her boss wants Joann to train her replacement before leaving. Her replacement is the boss's nephew, Roman, who has hurt his arm in an accident and is unable to work his normal sawmill job.
For two weeks Joann is forced to work side by side with Roman. She thinks he is impossible to work with. He thinks she is impossible to work with. But that isn't all that they have in common. Each of them also likes to fish. Before Joann got fired she had splurged on a new fishing pole but her brother didn't approve, so he threw her pole into the middle of the lake. Roman came to fish later and landed her fishing pole. He knew someone would be looking for their obviously new fishing pole, so he left the pole with a note of explanation attached. Joann came by the lake later, saw her recovered fishing pole and note, so she left a thank you note in return. And from this, a sweet but mutually anonymous pen pal relationship ensued in which both Roman and Joann felt they could honestly express themselves.
While their anonymous letters are bringing the two closer, they can only manage to get on each other's nerves while at work. Something's got to give as Joann and Roman can barely be civil to one another, yet why can't they seem to stop thinking about each other?
This story reinforces that although no one is perfect or has the perfect life, God has the perfect plan for every person. All can identify with Roman and Joann having feelings of inadequacy, whether it be due to a physical infirmity or just not feeling wanted or admired by anyone. Plain Admirer was published June 1, 2013.