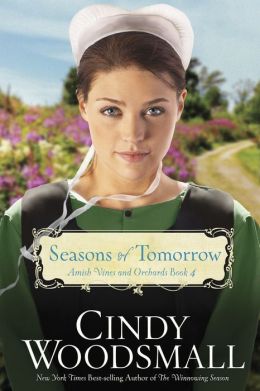 Cindy Woodsmall delivers a powerfully inspirational book with her finale to the Amish Vines and Orchard series, Seasons of Tomorrow (WaterBrook Press). In this fourth volume to the series, both old and new characters are given their proper happy endings. To fully understand where the characters have come from, reading these books in order is advised.
This is not your typical Amish romance novel. Seasons of Tomorrow is meticulously written with romance woven all through this novel for numerous couples: Rhoda and Samuel, Leah and Landon, Esther and Jacob, Phoebe and Steven. Tragedy and misfortune also strike the characters throughout the pages of Seasons of Tomorrow, but nourished by the Good Word of God, all are eventually calmed and soothed through their darkest hours. Character growth is thoughtfully scripted throughout leading to impressive twists and turns in the plot.
Family relationships play an important role in Seasons of Tomorrow. Not all family members are willing to accept the relationship between Leah, an Amish girl, and Landon, an Englisch man. One of the most unique features of Seasons of Tomorrow is the strength and courage of the female characters. Rhoda, Leah, and Esther in particular are incredibly strong women. They are not your usual Amish females, waiting for their husbands, fathers, or boyfriends to tell them what to do. They are opinionated, assertive, and even a little sarcastic at times too.
Jacob, brother to Samuel and Leah, and the ex-fiancé of Rhoda, finally has closure on his relationship with Rhoda. Jacob's individual growth is inspiring and his relationship with Esther is both fun and truly rare. She is definitely a one-of-a-kind Amish woman and her humor adds another layer to this multi-dimensional novel.
Readers looking for well written Amish romance, need look no further than the Amish Vines and Orchard series. Cindy Woodsmall has once again knocked it out of the park with Seasons of Tomorrow. The book was published April 15, 2014.