Recently I reviewed Amy Clipston's most recent book, A Mother's Secret which was the second book in the Hearts of the Lancaster Grand Hotel series. I had not yet read the first book in the series. A Mother's Secret was so interesting, I wanted to get my hands on the first book in that series and read it. So here is my take on A Hopeful Heart: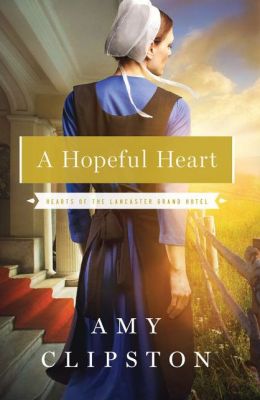 A Hopeful Heart by Amy Clipston (Zondervan) gives readers an intriguing peek into Amish and Englisch relationships. This is the first book in the Hearts of the Lancaster Grand Hotel series. Hannah Glick is a middle aged Amish widow working as a housekeeper at the Lancaster Grand Hotel. She has a chance encounter with one of the hotel guests, Englischer Trey Peterson, that profoundly changes her life.
Hannah Glick has three children, 16 year-old twins, Lilly and Amanda, and a younger son, Andrew. The death of her husband, Gideon, continues to affect the family. They live on a horse farm that was started by her deceased husband and his brother Joshua. Joshua still works at the horse farm. He has secretly been in love with Hannah for many years and wants to be a dad to her children. His brother has been dead for four years now and he feels it is time to make his feelings known to Hannah. Joshua is a kind, thoughtful, and loving brother-in-law to Hannah and more than just an uncle to her children.
Meanwhile, Englischer Trey Peterson is finding ways to run into Hannah at the hotel. He is attracted to Hannah, finds her easy to talk to, and understanding of his feelings of being a widower. What Trey doesn't understand is that a relationship between an Amish woman and Englischer man is forbidden. Hannah finds herself in a complex position with both Trey and Joshua pursuing her, and she has an unbearably difficult decision to make. Hannah spends much time in prayer asking God to give her a sign as to what path she should take.
The twins, Lilly and Amanda find themselves on opposite paths. Amanda desperately wants to go to college and become a veterinarian which would mean leaving the Amish. Lilly wants to get the head teaching position at the Amish schoolhouse, but with so much gossip about her mother and the Englischer, her chances don't look good. Hannah tries to stop all communication with Trey so she can stay in good graces within her Amish community.
Amy Clipston gives a totally fresh take on the Amish romance genre in A Hopeful Heart. Amy has a talent for writing in such a manner that truly captures the aspirations and angst of each character. Readers who are mothers will be drawn to how Hannah resolves her romantic problem. At times it seems there are no "right" answers to problems; people do the best they can and realize that not everyone will like the outcome. A Hopeful Heart was published June 7, 2013.