Yesterday I reviewed a young adult Amish book by J.E.B. Spredemann, and today I am reviewing an adult Amish fiction by the same author. This book is very special. It is beautifully written and tells the tale and aftermath of a devastating secret. I have to say the author surprised me; I didn't suspect what was coming at all!
Jennifer Spredemann has generously offered to sponsor the giveaway of one copy of this novel, An Unforgivable Secret. I'm so excited about this as the book carries a very powerful message! The contest is open to all US residents. Please leave a comment below including your email address. I will announce the winner next Wednesday, July 2, 2014 and notify the winner by email.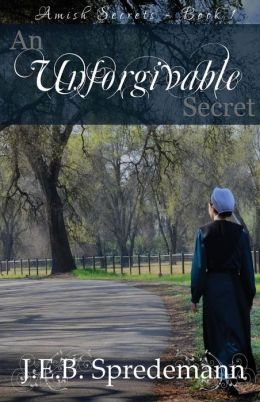 For a chance to win this incredible novel, just comment below and add your email address, the winner will be posted July 2nd.
Rarely does a book claim to have a secret that is as well kept as J. E. B. Spredemann's
An Unforgivable Secret
(Blessed Publishing). This well written book is shocking and surprising, filled with tender moments of romance and forgiveness on one page and dark depression, tragedy, and self-loathing on the next page. Readers are cautioned to keep tissues handy with the conclusion of this novel being uplifting and faith-affirming.
An Unforgivable Secret is the story of Hannah, Christian, and Samuel. They have all grown up together, having been school chums for years, and playing together in each other's barns. When they get to their Rumspringa time, Samuel was going to ask Hannah if he could give her a ride home but Christian asks first. Hannah and Christian start dating and get serious. Christian decides to sneak behind Hannah's back and begins to see an Englischer girl. Samuel is disgusted with Christian's behavior but keeps quiet. Christian asks Hannah to marry him and she is over-the-moon excited.
Unfortunately on the night he is to break it off with his Englischer girlfriend, Hannah happens to be at the same restaurant and sees them together. The next evening at the young people's get together, Hannah confronts Christian with what she saw and breaks it off with him.
Shortly after that, Samuel decides to move to Ohio to start his life without his best friends, Christian and Hannah. Samuel has family that lives in Ohio and has met a girl, Carolanne. In time, they marry. Meanwhile, Christian and Hannah reconcile and marry as well. The years go by but something is not right with Hannah; the depression and feelings of unworthiness take their toll on her.
Hannah's luck runs out and her scandalous secret is revealed. The author deals with very sensitive topics in an extraordinarily thoughtful and caring manner. The amazing forgiveness that God gives to all His people is shown. The author reinforces the theme that there is no sin God will not forgive; the Bible passages quoted give soothing words for all God's children.
An Unforgivable Secret
is a well-paced, page turning success. Characters are well defined, the message is timely and beautifully delivered, plus the author skillfully manages to keep readers guessing quite a while before exposing the secret.
An Unforgivable Secret
was published June 8, 2013.