Normally I only review adult Amish fiction, but I thought it would be interesting to see what "young adult" Amish fiction is like. I enjoyed reading Danika's Journey and if there is a young girl in your life, this is a book you can feel good about giving her to read.
This is the book that Jennifer Spredemann is giving to one lucky winner!
The author, Jennifer Spredemann has generously offered to sponsor the giveaway of one of her young adult books from the Amish Girls Series to one of my readers. This book contains the first four stories in the Amish Girls Series! To enter the giveaway (US residents only), just comment below on your favorite vacation spot and include your email address. I will announce the winner on July 2, 2014 and will notify the winner by email. Good luck to all!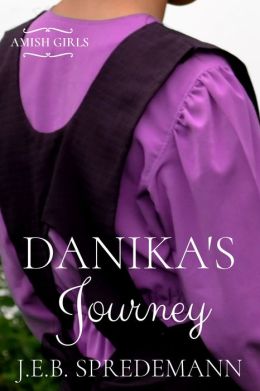 A BOOK REVIEW OF DANIKA'S JOURNEY BY J. E. B. SPREDEMANN
Pre-teens, teens, and those young at heart will love Danika's Journey, a young adult book by J. E. B. Spredemann (Blessed Publishing). It is part of the Amish Girls Series. The book centers on Danika Morales, a seventh grader living in California with her father who has cancer. Danika's mother died several years earlier. When her father dies, Danika is sent to live with her mother's brother, Uncle Phillip, who is Amish and lives in Lancaster, Pennsylvania.
Danika is in for a big cultural shock going from being a typical Englischer California girl to living in an Amish household. She knows nothing about the Amish way of life and is shocked to find out that Uncle Phillip does not have a car and there is no electricity, television, or Wi-Fi in the home.
Remarkably, Danika makes a rather smooth adjustment to living with her new family. Helping Danika to make an easy transition is an Amish boy, Eli. Unfortunately, Eli is the son of Uncle Phillip's arch enemy. Once it becomes known that Eli and Danika are sweet on one another, Eli's father issues an order that Eli must not have anything to do with Danika.
Danika and Eli sneak out to see one another and Uncle Phillip blows up when he finds out. Later, while reading the bible, Uncle Phillip realizes he needs to take a softer approach. Will there be a way to resolve the feud between Uncle Phillip and Eli's father? Can Danika and Eli find a way to continue their special friendship?
Readers will appreciate the sweet romance between Danika and Eli as well as Danika's understanding and patient surrogate parents. Danika's Journey is an action packed page turner interspersed with good values and pertinent bible verses without being overly preachy to the pre-teen set. Danika's Journey is book two in the Amish Girls Series. It was published April 20, 2013.