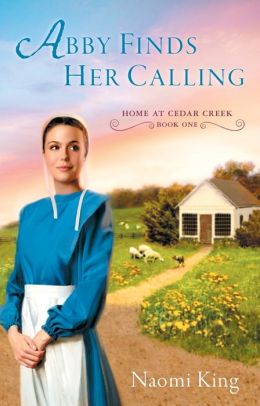 The Home at Cedar Creek series begins with book one, Abby Finds Her Calling, written by Naomi King (New American Library).

This book is so special, it has all the elements necessary for a top rated novel from the Amish genre.

Abby Finds Her Calling contains inspiration, intrigue, romance, perfect and imperfect characters, and redemption.

This book's message is so uplifting and so very difficult to put down once you start reading.
The book starts with James Graber so excited and happy on his wedding day.

He is to marry Zanna Lambright, his 17 year old neighbor.

Zanna's older sister, Abby, a self-declared maidel (old maid), is secretly in love with James. Sadly Abby has to break the news to James that her sister has run away and there will not be a wedding today.

James can't believe it, Zanna had not given him any sign that she didn't want to get married.

He is crushed and heart broken.
Within a few days, Zanna is back and reveals a secret so loathsome and shameful, her family doesn't want to have anything to do with her, except for Abby.

Abby invites Zanna to live with her.

After encouragement from Abby, Zanna tells James the true reason she left him on the day of the wedding.
Abby is selfless as she tries to understand and help her younger sister.

She is constantly thinking of ways to help her sister and others in the community.

Through her good example, she helps to reduce the ill will directed towards Zanna, and she gives Zanna a new occupation, which lifts her spirits.

Will Zanna find a happy ending?

Is it possible that James and Abby will find happy endings?
Abby Finds Her Calling also deals with difficult subjects in a kind and sensitive manner, such as dementia in older parents, verbal abuse of children by their parents, physical abuse of a husband towards his wife.

Naomi King has written a first class Amish novel.

Abby Finds Her Calling is definitely different from other books in this genre.

It is deeper, more intense, with higher highs and lower lows.

It has an authenticity along with a spiritual depth that readers will appreciate.

Abby Finds Her Calling was published February 28, 2012.