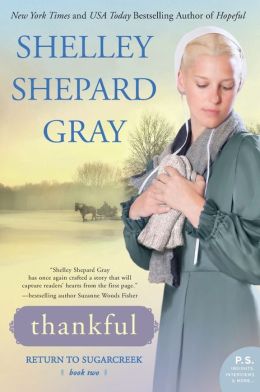 Thankful by Shelley Shepard Gray (HarperCollins Publishers) offers several captivating storylines in book two of the Return to Sugarcreek series. This book tells the romantic story of the Christina and Aden, two young Amish people, who started out as friends. Many people think of them as brother and sister since Aden lives with Christina's family. They have grown up together but their feelings are growing more romantic towards each other.
Aden, who is unaware of how Christina feels about him, decides he needs to move out, as it would be unfair to keep living under the same roof as Christina with the strong feelings he has about her. He feels he is doing the right thing by squashing his feelings for Christina. In an effort to move on, while working late, he accepts a ride home and dinner invitation from an Englischer nurse. Christina doesn't like that one bit.
Similarly when Christina has an opportunity to walk out with a new young man in town, she goes, much to Aden's chagrin. What will it take for Christina and Aden to admit their feelings for each other? Will Christina's parents ever accept the two of them having romantic feelings for each other?
The continuation of the side story of Judith and Ben is included in Thankful. Judith has been told she will never be able to carry a baby to term, so they are looking into adoption. Meanwhile, their adoption caseworker asks if they would consider being foster parents to a baby while the baby's mother is in prison. Judith and Ben have much to consider before giving their answer. How will they cope with knowing this child will someday go back to its mother?
Jana, the 58 year old Englischer owner of Sugarcreek Inn, has her own side story in this book. Finally a little romance is headed her way as well as some other changes to her business.
Shelley Shepard Gray has given her fans of the Amish genre a fast paced novel about the many different blessings found in the lives of ordinary people. The message of thankfulness to God resonates throughout the pages. Thankful reads well as a stand-alone novel, but readers will want to read the entire series. As an extra treat, the best ever Peanut Butter Pie recipe, complements of Sherry Gore, is included at the end of the book. Thankful was published May 6, 2014.