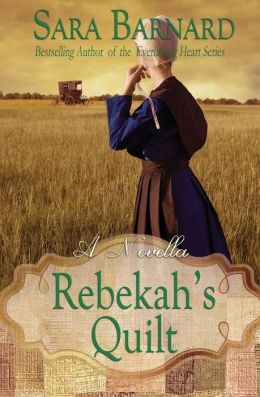 Sara Barnard normally writes historical romance and children's stories but in Rebekah's Quilt (5 Prince Publishing) has turned to historical Amish romance, and is quite successful in writing the Amish genre.

The story begins in Indian Territory in 1868, and already readers will be interested in this truly different Amish novella.

Elnora and Samuel Stoll are traveling with friends from Europe, across Canada and down through the United States in their wagons.

They come across a terrible wagon accident where an Englischer family appear to be killed.

The Amish stop to bury the dead when they hear a baby crying.

An Englischer baby girl was thrown from the demolished wagon and landed in a bush.

Elnora Stoll has not been able to conceive in the two years she has been married to Samuel.

All Elnora can think is that God has answered her prayers by bringing her to this site and finally she will have a child.
After Samuel's inquiries in the nearest town, he can find no Englischers willing to take the baby, so Samuel tells Elnora, they can keep the infant.

They name the baby Rebekah.

The wagon train advances on for two more days and they arrive at their destination, Daviess County, Indian Territory.
Next the story advances to Rebekah's 20th birthday.

She has been friends with Joseph, age 22, ever since she was a baby, they have grown up and gone on adventures together.

Rebekah is hoping for a commitment from Joseph and wants to move their friendship to a romance.

Just as they are getting to that point, a strange Englischer, Peter, arrives in town and causes havoc, upsetting everyone, especially Rebekah.

What will become of Rebekah and Joseph?

Will Peter harm Rebekah?
Sara Barnard has knit together an interesting tale of Amish families settling in 1800's Indian Territory.

She knows how to write romance and slowly increases the romantic tension between Rebekah and Joseph throughout the story.

Then Sara inserts Englischer Peter to add a mystery element.

The riveting conclusion of Rebekah's Quilt will keep readers glued to this book.

Rebekah's Quilt was published November 24, 2013.