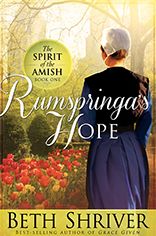 Rumspringa's Hope by Beth Shriver (Realms) is book one in The Spirit of the Amish series. This novel tells the story of Emma, Zeb, and Caleb. Emma and Caleb have grown up together since childhood, now both are 23 years old but Caleb has left Lititz, Pennsylvania to evangelize in Philadelphia. He watches over Amish youth who come to Philadelphia on Rumspringa. Zeb is a 33 year old widower who wants to marry Emma and combine his farm with Emma's family farm.
Emma always imagined that she would end up with Caleb, but he broke her heart when he left Lititz and didn't come back for her. Emma is thrilled to learn that after being gone for a year, Caleb is rumored to be back in town to chaperone a new group of Rumpringers to Philadelphia. Now Emma's brother Mark wants to go with Caleb. Mark is restless, unwilling to listen to anyone, yearning to be on his own, to have an adventure without supervision. Emma worries his impulsive nature will get him in trouble in the big city.
Zeb is pressuring Emma to marry him but while he is nice and good to her, she still thinks of Caleb. Caleb explains to Emma about his evangelizing work in Philadelphia and Emma starts to think about going to Philadelphia with Mark. She tells her parents she is going to Philadelphia and will keep an eye on Mark so he doesn't get in trouble. Emma also tells her parents she will make sure he comes back to Lititz. Telling Zeb won't be so easy. He doesn't want her anywhere near Caleb. Emma feels her future is with Zeb but wants this time in Philadelphia before she marries Zeb.
Beth Shriver has penned a beautiful story of two Amish youths trying to make the outside world a better place by spreading the word of God. Rumspringa's Hope is filled with adventures and interesting characters, some lovable and others cringe worthy. The plot moves right along covering subject matter not usually found in Amish fiction, but it all works together to make this into a book that readers will not be able to put down until the last page is turned. Rumspringa's Hope was published May 6, 2014.