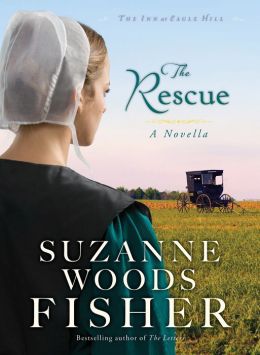 Suzanne Woods Fisher has rewarded her readers with the novella, The Rescue, (Revell) continuing The Inn at Eagle Hill series. This enjoyable short story definitely lives up to the quality readers expect from Suzanne. The main character Will Stoltz returns to Stoney Ridge and the Inn at Eagle Hill after graduation from veterinarian school to open the Stoney Ridge Wild Bird Rescue Center. Unfortunately he is dead broke. He is staying at the Amish Schrock family's Inn. Young Luke Schrock, age 11, takes to Will and wants to be his assistant helping with the birds Will takes in.
There is another reason Will came back to Stoney Ridge. He wants to find Jackie Colombo, a lady veterinarian that Will is enamored with since the last time he was in Stoney Ridge. Jackie seems to have disappeared. No one knows where she went after injuring her hand.
Time moves on and Will and Luke make their rounds, saving birds. But without donations, Will doesn't know how he will be able to keep the Wild Bird Rescue Center open. His student loans are coming due, the power company will turn off his lights if he doesn't pay the bill, and his credit cards are maxed out. And he still doesn't know where Jackie Colombo went. When Will finally surrenders his life to God, he feels a sense of freedom and joy. He feels reenergized about his job but will he be able to find any donations to continue his work? Will Jackie Colombo ever show up?
The Rescue stands alone without needing to read the two books in the series that precede it, The Letters and The Calling. However, the entire series is a delight to read. The next novel in the series, The Revealing, will be published July 1, 2014. The Rescue was published May 6, 2014.