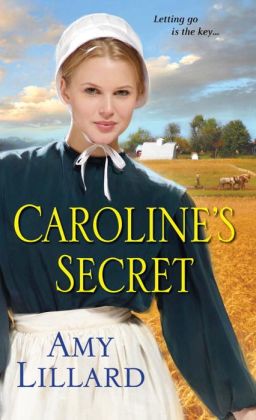 Caroline's Secret by Amy Lillard (Zebra Books, Kensington Publishing) takes the Amish romance genre to new heights of excellence. This novel is the first in the new Wells Landing series by Amy Lillard. The series takes place in Wells Landing, Oklahoma and features the more liberal Beachy sect of Amish. Amy's writing in Caroline's Secret is exquisite; she plots out an emotional and plausible storyline and gives readers more than one romantically inclined couple to root for. In between each chapter, Amy includes letters written by the characters to their family members giving greater insight into individual development and adding to the narrative.
Caroline is a 23 year old unmarried mother of a 15 month old little girl, Emma. They are living with Esther, an older widow who runs the local bakery. Caroline grew up in Etheridge, Tennessee as the only child of a Swartzentruber Amish family. When Caroline found herself pregnant, she left town and made it as far as the Beachy Amish community of Wells Landing, Oklahoma.
Andrew is new to Wells Landing. He has moved from Missouri to work for his Uncle Abe who owns a furniture woodworking shop. Andrew seeks to make a fresh start and get away from the memories of his girlfriend, Beth, who passed away six months ago after a long illness. Caroline meets Andrew as he is delivering new furniture to the home she shares with Esther. Soon she is captivated by his good looks but Caroline is not looking for a husband and Andrew is definitely not looking for a wife. They agree to be friends.
Caroline and Andrew also agree to try to match Uncle Abe, a lifelong bachelor, with Esther. A consequence of getting Abe and Esther together is that Caroline and Andrew must also spend more time together. As things develop, Caroline and Andrew begin to have more than just friendly feelings towards each other. One of the best aspects of Caroline's Secret is the character development of absent minded Uncle Abe and the lovable Esther. Readers will be eager to see if their romance will bloom.
Just when all seems favorable for Caroline and Andrew, Caroline quickly departs Wells Landing to go back home to Etheridge, Tennessee leaving Andrew hurt and heartbroken. At this point it just may take the whole Amish community to get Caroline and Andrew back together. Readers will want to keep tissues handy as the conclusion to Caroline's Secret is compelling, emotional, and convincingly portrayed.
The continuation of the Wells Landing series looks promising with Courting Emily due out January, 2015. Caroline's Secret will be published August, 2014.