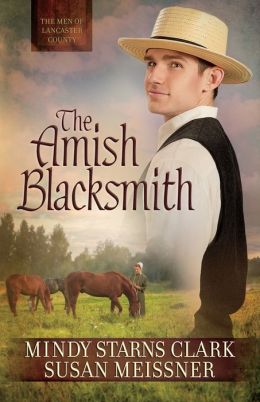 Mindy Starns Clark and Susan Meissner have penned The Amish Blacksmith (Harvest House Publishers), a beautiful written and moving novel. It is book two in the Men of Lancaster County series. This insightful book is one to be treasured, not just for the well written story but for the inspirational message contained between its covers. Brilliantly, the authors have used the male point of view of 24 year old Jake of Lancaster County, Pennsylvania to tell the story.
Jake is an apprentice blacksmith working for the Kinsinger family, shoeing horses. Jake is also known as a "gentler" of horses, someone who works with horses to help them be less afraid or skittish. Jake's boss, Amos Kinsinger, asks Jake to take his new to town niece Priscilla under his wing and help her make friends. Priscilla is a 20 year old orphan that is not an easy person to like or get to know. She is introspective, doesn't like to make small talk, and likes horses more than people. She is considered odd by her peers for preferring animals to people.
Priscilla used to live in Lancaster County until her mother died six years ago in a tragic accident. She had a terrible time accepting her mother's death, so eventually Priscilla went to live with relatives in Indiana. Now Priscilla is back and as odd as ever. Jake needs to figure out how to get her to relax, socialize, and get over her standoffishness. Jake's girlfriend, Amanda, takes on the project of finding Priscilla a boyfriend and Priscilla seems to be making an effort to mix in with the community.
Priscilla has a rare gift of being able to read both horses and humans, to understand their needs and fears. By discovering why a horse is fearful, she helps Jake with his "gentling" of horses. And eventually she sees right through Jake. Priscilla tells him what he needs to do to start feeling emotions, and that he needs to stop running away from anything that gets too close to his heart. Jake thinks that is crazy, he is perfectly happy and ready to commit to Amanda. Who will be right, Jake or Priscilla?
This poignant novel is richly spiritual and rewarding. The character growth of Jake detailed though the pages is enlightening. The heartbreaking insights and sweetly written romance contained within these pages are words that won't soon be forgotten after the last page is turned. The Amish Blacksmith is truly an exceptional Amish romance novel and not to be missed. It will be published August 1, 2014.