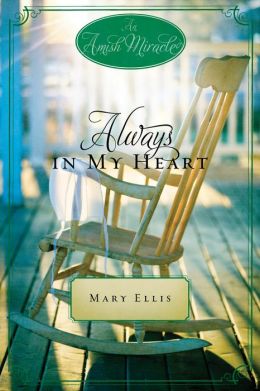 Always In My Heart (Thomas Nelson), a novella by Mary Ellis, is a sweet tale of forgiveness given and reconciliation received within a family. Mary Ellis has written a beautiful story about an Amish couple, Hope and Stephen Bowman. Hope yearns to give Stephen a son but she has just given birth to their fourth daughter.
Hope feels depressed and thinks God is punishing her for giving up for adoption the son she had at age 16 as the result of a rape. Her father forced her to go to a home for unwed mothers and sign papers to surrender any rights to her baby. Hope has never told her husband about this child and the burden of carrying around this secret has caused Hope to feel blue and despondent.
Hope realizes she needs to expose this secret for her own peace of mind. She starts by telling her husband what she has been hiding. Then Hope decides she needs to forgive her father for coercing her into giving up her child. With that out of the way, Hope feels confident that her prayers will finally be answered. Hope is sure God will now send her and her husband a son. The Lord doesn't deliver exactly what Hope imagines. The Lord provides but with all the complications involved, Hope learns she needs to stand up for what she wants to get to that happy ending.
Mary Ellis has authored a faith driven novella that delivers a strong message of hope, love, and above all, forgiveness of ourselves and others. Always In My Heart was published February 11, 2014.