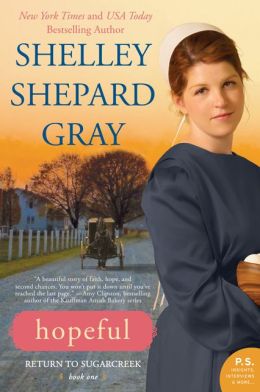 Shelley Shepard Gray once again proves she knows the Amish romance genre with Hopeful (HarperCollins), book one in the Return to Sugarcreek series. The book is captivating with excellent characterization and plot development. Readers should be prepared to neglect all else until finishing the book, it is just that entertaining.
The story begins with Miriam late for work again, because she is just so bored with her life and job as a waitress at Sugarcreek Inn. She is 25 years old and still single. Every one of her friends seems to be moving forward in their lives, getting married or having children, except for Miriam. There is only one person she wants to notice her and that is Junior Beiler.
Junior is the second oldest of eight children. He has acted as father to his younger siblings since both his mother and father have died. Somehow Junior and his older sisters have managed to keep all the siblings together and thriving. Now Junior is ready to find someone to court and marry. Unfortunately he is infatuated with Mary Katherine the new standoffish Amish school teacher who is also Miriam's best friend.
Junior sees Miriam at the Sugarcreek Inn and asks her if he could stop by her home later that evening, that there is something he needs to ask her. Miriam assumes he is coming to court her. She is on cloud nine, thrilled that Junior has finally noticed her and that her time has come to step out. When Junior comes over to Miriam's home and asks her how to get Mary Katherine to date him, Miriam is devastated. Junior apologizes for giving her the wrong impression. She pulls herself together and agrees to help Junior with Mary Katherine. Miriam and Junior agree that they will sit with Mary Katherine at lunch after church on Sunday.
Mary Katherine lets Junior know that the only thing she likes less than teaching school is Junior himself. She wants nothing to do with Junior but he continues to have his heart set on her. Everyone else doesn't understand why Junior can't see that Miriam is the perfect girl for Junior. What will it take for Junior to wake up to what is right in front of him?
Hopeful tells the tale of ordinary Miriam who becomes quite extraordinary in Junior's eyes. Shelley Shepard Gray tells a beautiful story that includes true friendship, romance, and mystery. And just like her past novels, Hopeful is as delicious to read as a glass of cold lemonade is on a hot summer's day. And speaking of delicious, don't miss the Chocolate Cream Pie recipe in the back of the book! Hopeful was published on February 4, 2014.